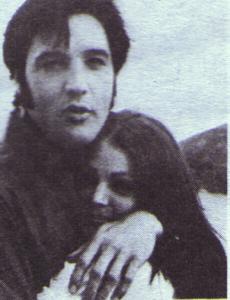 Priscilla Presley was born Priscilla Ann Beaulieu on May 24, 1945. She grew up with her mother and stepfather (Paul and Ann Beaulieu) in the Air Force. Her real father died when she was a baby . As a child, Priscilla was known to be very pretty. She won Prettiest Senior when she graduated from High School, and when she was only in eighth grade, she became the Queen of Del Valley Junior High. Despite being pretty, Priscilla was a shy girl growing up, with blue eyes and dark brown hair. After becoming Queen of Del Valley Junior High, her father told the family they were being transferred to Weisbaden, West Germany. Priscilla didn't want to leave all her friends, but she reluctantly went.

Priscilla would hang out at the Eagles Club, a place for eating and entertainment. According to Priscilla, she'd often just listen to the juke box and write letters to her friends. One day, a handsome man looking somewhere in his mid twenties approached Priscilla. His name was Currie Grant. He asked Priscilla, "How'd you like to meet Elvis Presley? My wife and I are good friends of his." Of course Priscilla agreed, and the night she was to meet Elvis, she wore a white and navy sailor dress. Elvis lived off base in Bad Nauheim. Currie, his wife, and Priscilla drove for forty minutes to get to Elvis's house. Out of nervousness, Priscilla didn't speak much. When she finally arrived, entered the house, and met Elvis, he'd taken a liking to her right away. He even seemed to be trying to impress Priscilla with his songs he'd play her. After the first night of meeting Elvis, Priscilla couldn't concentrate on school, but she told nobody that she'd met Elvis, because as she thought, 'Who'd believe that just last night I was at Elvis's house?'

Elvis wanted to see Priscilla again, and so, she began visiting him regularly. For six months this went on, almost as if they were a couple. Priscilla thought of nothing but Elvis, she cared for him, listened to him, and accompanied him. Her family werent too happy about this rock star being friends with their daugther, but Elvis won them all over with his uniform and his southern politeness. The first Christmas gift Elvis give Priscilla was a gold watch set with dimonds. She gave him a set of bongo drums that she could only just afford, only to find out Elvis had a basement fulled of bongo drums.

The night before Elvis left Germany, Elvis told Priscilla he loved her for the first time. She then asked him to consummate their love but he wouldnt - He was worried about her age and it didnt happen until their wedding night 7 years down the line! When Elvis left Germany, she went with him to the airport. He give her his combat jacket and sergeant stripes and waved at her before he stepped onto the plane.

Then Elvis was gone. Priscilla never left her room for hree days after that.

Three months later, Priscilla finally received a phone call from Elvis. They would talk daily and send each other records, they missed each other deeply. Then in the summer of 1962, Elvis asked her parents if she could visit him in Bel Air. After long talks, her parents finally agreed that she could go and see him. Yet their were rules, she had to be constantly chaperoned and wrote home daily. After two days in Bel Air, Elvis took Priscilla to Las Vegas. In accordance to the rules laid down by her father, she pre-wrote a load of postcards to be sent, with a Bel Air postmark, to her parents everyday. In Vegas, Elvis bought Priscilla a load of dressed and got the hotel hairdresser to do her hair and make-up in the beehive panda look that Elvis loved. When Priscilla flew home a few days later, she was still made up Elvis style. At the airport, her mother shoved a mirror at her and wouldnt speak to her until she washed her face!

Priscilla finally got to Memphis for Christmas 1962. Vernon brought her from the airport but Elvis insisted that he be the one to drive her through the gates of Glaceland. Priscilla met the Memphis Mafia and Presley family, then promptly spent two days asleep after taking two of Elvis's horse pills. Elvis gave her a poodle for Christmas, which she named Honey.

In 1963 Priscilla moved to America for good. She was enrolled at the Immaculate Conception in Memphis, an all girls high school. She was supposed to be living with Vernon and his new wife Dee, but she was soon living with Elvis in Glaceland. All those late nights and partying played havoc with her school work. She passed her Algebra exam by asking the girl next to her to show her the answers! The girl did get to meet Elvis for the help! Elvis gave Priscilla a Red Corvair, her first car, as a Graduation gift. In order not to disrupt proceedings, he waited outside during the Graduation ceremony, signing autographs for a bevy of exicted nuns.

Priscilla stopped taking pills with Elvis after a pillow fight got out of hand and Elvis gave her a black eye by mistake. She picked up the nickname Toughie. Elvis declined to give up the pills with her. She also believed Elvis could cure her headaches simply by touching her temples.

Elvis finally propsed to Priscilla shortly before Christmas 1966. He gave her an engagement ring made of 3 and half diamond encircled by a detachable row of smaller diamonds. He had always told her when the time was right. Elvis and Priscilla were then married on Monday May 1st 1967 at the Aladdin Hotel in Las Vegas. Colonel Parker had arranged it and after an eight-minute ceremony the happy couple were rushed out for a photo session and press conference. After the wedding the Presleys returned to their rented house in Palm Springs aboard Frank Sinatra's Learjet. Elvis carried Priscilla across the threshold singing' The Hawaiian Wedding Song'. That night, Elvis finally made love to Priscilla and their honeymoon was full of romance. Priscilla became pregant straight away. Elvis and her were over the moon and her baby shower was organised by Nancy Sinatra.

When Priscilla went into the labour, decoy drivers left Glaceland first to lure the press away. Before she left the house, she did her full make-up and hair. Elvis drove to her to the wrong hospital before turning to the Baptist. While giving birth, Priscilla asked permission to keep on her double set of false eyelashes.

Lisa Marie Presley was born on Thursday February 1st, 1968, at the Baptist Memorial Hospital. Elvis was overjoyed and particulary delighed that his new daugther had a shock of jet black hair! They enjoyed the roles of being parents and Lisa Marie was loved and worshipped by her father and mother, they always longed for another child.

After a while their marriage began to fall apart. Elvis didnt make love to Priscilla for many months after their daugther's birth, and even when he did, the passion was almost gone. To fill her life up, she took up private dancing lessions and had a brief affair with her dance teacher. In 1972, she began an affair with Mike Stone. He was a karate expert who met Elvis backstage one day when he was acting as bodyguard to a record producer. Priscilla had just taken up martial arts and Elvis had suggested that she train with Stone. In other words, he pushed her into his arms!

She knew Elvis was also cheating on her. When Priscilla announced to Elvis that she was leaving him, she told him she will always love him but she needed her own life now. They got divorced on Tuesday October 9th, 1973, at the Santa Monica Courthouse in California. They agreed to share custody of Lisa Marie. The break up was amicable, in fact, Elvis never bothered to pick up his copy of the divorce papers!

When Elvis died on August 16, 1977, Priscilla was at home and got a call off Lisa Marie. She flew over to Glaceland on Elvis's private jet and never left the house. Priscilla and Lisa Marie went to view his body in the coffin and placed a silverr bracelet depiction a mother and child's clasped hands on his right wrist. Her life was over. Elvis was everything to her and now she needed to carry on her life with their only child, Lisa Marie.

She then became an actress and had a part in top 80's soap Dallas and played Jenna Wade. From that she starried in The Naked Gun films and when Vernon died in 1979, Priscilla Presley was among the executors of his will. She set about forming Elvis Presley Enterprises (EPE). The first thing she did was spend half a million dollars refurbishing Glaceland to be more she remembered it. Then she opened Glaceland in 1982 and recouped her money in 40 days! She is also deep into scientology. She also saved Glaceland and elvis' image from falling apart and her and Lisa Marie run Glaceland and EPE together!

Priscilla Presley is great! I love her!