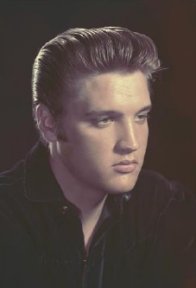 The King's Vital Statistics!

Full Name: Elvis Aaron Presley
Born: January 8th, 1935. Tupelo, Mississippi
Died: August 16th, 1977. Memphis, Tennessee
Blood Type: O Positive
Height: 6'0
Weight: 168 to 250 (His weight increased at the end)
Neck: 15/2-16
Waist: 30-42
Chest: 39''
Eyes: Blue
Hair: Dishwater blond (dyed black)
Shoe Size: 11D
Favorite Drink: Pepsi
Favorite Cigar: Roi Ton Blants
Favorite Food: Peanut Butter and Jelly sandwiches, Mashed Potatoes, Sauerkraut, Cheesebugers, Pork Chops, Brunt Bacon and Grape Jelly
Favorite Toothpaste: Colgate
Favorite Soap: Neutrogena
Favorite Aftershave: Brut

Elvis' Favorite Co-Stars:

Ann Margret
Nancy Sinatra
Mary Ann Mobley
Juilet Prowse
Shelley Fabares

Elvis' Favorite Films:

Rebel Without a Cause
Patton
Dr. Strangelove
Monty Python And The Holy Grail
The Party
The Pink Panther
The Dirty Harry Films
The Wild Bunch
Across 110th Street
One Flew Over The Cuckoos Nest
A Streetcar Named Desire

Elvis' Favorite Books:

The Bible
The Face Of Jesus
The Impersonal Life
The Prophet
The Shroud of Turin

Nicknames For Elvis:

Big E
E
El
E.P
Elvis The Pelvis
The Boss
Bunting
Crazy (On his personal I.D Braclet)
The King
An Galley Of Elvis' Address:

Old Saltillo Road, Tupelo Mississippi
5101/2 Maple Street, Tupelo Mississippi
1010 North Green Street, Tupelo Mississippi
572 Roplar Avenue, Memphis Tennessee
185 Winchester Street, Memphis Tennessee
698 Saffarons Street. Memphis Tennessee
462 Alabama Street, Memphis Tennessee
2414 Lamar Avenue, Memphis Tennessee
1414 Getwell Street, Memphis Tennessee
1054 Audubon Drive, Memphis Tennessee
3764 Elvis Presley Boulevard, Memphis Tennessee
565 Perugia Way, LA
1059 Bellagio Road, LA
10550 Rocco Place, LA
1174 Hillcreast, LA
144 Monovale Holmby Hills, LA
845 Chino Canyon Road, LA
1350 Leadera Circle, LA

Glady Love Smith Presley was born on April 25, 1912 and died on August 14, 1958. She died aged 46 from a heart attack.

Vernon Elvis Presley was born on April 19, 1916 and died on June 26, 1979. He died of a heart attack in Memphis.

Lisa Marie Presley was born on February 1st, 1968. She weighted 5lbs and 15 ounces. She was his only child and the apple of Elvis' eye!

Elvis weighted 5lbs at birth. He was never circumcised.

Elvis believed he could speak to his dead Brother, Jesse Garon.

Elvis' last words were ' Ok, I won't '

By 1956, Elvis was a millionaire.

Elvis left an estate vauled at more then 15 million dollars.

Elvis filmed grossed $150,000,000 dollars.
Elvis' horse was called Rising Sun.

The Shroud Of Turin was the last book Elvis read on the day he died.

Elvis' final resting place is alongside his Mother, Father, Grand-Mother and Brother in the Meditation Gardens located on the grounds of Graceland.
Touring Graceland:

Address:
3764 Elvis Presley Boulevard, Memphis Tennessee
Open: 7 Days a week - March til October
Closed: Tuesdays, November - February, Thanksgiving, Xmas day and New Years Day

Hours: 8am to 6pmd during the summer. 9am til 5pm the rest of the year

Cost: 90 min guided house tour is $7.95 for adults and $4.23 for children aged 4-11. Parking: $5.00. Guided house tour plus two Elvis airplanes, The Sincerely Elvis Museum and Elvis Car Collection is $15.95 for adults and $10.95 for children aged 4-11.
If you are planning to go to Graceland very soon please check out
www.elvis.com
for up to date prices and hotel packages!