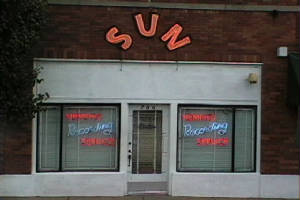 If Rock 'n' Roll has a birthplace, it is the little Sun Recording Studio, on Union Avenue in Memphis, Tennessee. Sam Phillips recorded practically any able-bodied person who could sing and play a guitar. And mant other who do far more then that. Thomas, the Prisonaires, Junior Parker, Ike Turner, Howlin' Wolf - a virtual who's who of African-American performers, most of whom had grown up in Memphis. Anyone could walk into Sam's place and make a demo, just like Elvis did. And word got out, mostly among black performers, that here was a man who took them seriously, who would give them a fair shake or, at the very least, not take undue advantage of them.

From there, wild country boys who had no interest in stayin down the farm found their way to Union. Johnny Cash, Carl Perkins and Charlie Rich all made their first recordings at Sun under Phillipstutelage. In October 1957, Jerry Lee Lewis pounded out ' Great Balls Of Fire' on the battered upright piano against the wall. While a year before, the Millon Dollar Quartet happened, yet more about that very soon! But Sun, for all it's fame, was not the only game in Memphis. During the late 60's and early 70's, Stax Records offered the primary soul alternative to Detroit's domiant Motown sound. And white Motown was a highly orchestrated event geared at a white crowd. Stax was raw, rooted firmly in blues and gospel.

Sam and Dave's ' Hold On I'm Comin', The Staple Singers ' Respect Yourself', Otis Reading's ' Sittin; On Dock Of The Bay' and Issac Hayes ' Shaft' were all recorded here.

Was it something in the water in Memphis? Over at Hi Records ( a former movie theater on South Lauderdale Avenue) Al Green was lying down ' Let's Stay Togther' as well as ' You Ought To Be With Me' and ' Tired Of Being Alone'. In 1969, former gospel singer Ann Peebles came to Memphis from her home in St. Louis and with her husband, Don Bryant, wrote and recorded ' I Cant Stand The Rain'. John Lennon called it ' the best song I've heared in 2 years'. Then 15 years later, Tina Turner covered it on her Private Dancer album. In 1975, Syl Johnson had his biggest hit with ' Take Me To The River'. Then 3 years later The Talking Heads took it to the top 30.

Elvis is great. Elvis was one of kind. Elvis was wonderful. We all love Elvis Aaron Presley. Yet if you want to explore some of his early influences, as well as the music that followed him, check out the great Memphis sound!