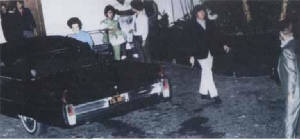 THIS PHOTO SHOWS JOHN LENNON BY THE CAR AND ELVIS IN THE DOOR WAY! THIS WAS TAKEN THE NIGHT THEY MET! HOW COOL THIS IS?
COMING SOON!!!!!!!!!!!!!!!!!!! TCB X
I had an email off a lovely Elvis fan called Tony Livingstone who informed me had owns and has the copyright on this original Elvis Pink Telegram. He had someone telling to sell copies on EBAY for £1000 each! I had no idea about this and Tony allowed me to keep using this photo on here. I have told Tony I found this telegram on another site years ago. I've said sorry to Tony and can only hope he will find the persons or site which I found this myself,
So FULL COPYRIGHT goes to Tony Livingstone. DONT COPY.
Thanks Tony for allowing me to use this on my site. So kind of you