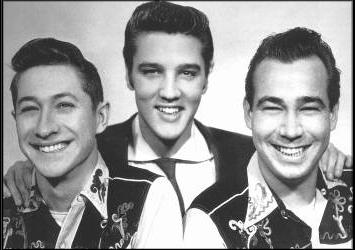 A number of things glorify a great talent more than surrounding it with other great talents. Elvis, from the very start of his career, was always with great muisicians and singers. He only worked with the very best and Elvis worked with some of the music industry's finest and most respected singers and musicians. This page is dedicated to those musicians and singers who played, recorded and made Elvis the greatest entertainer of all time.

1950's till 1960's

When Elvis went into Sun Records and began his out standing career, he was joined by three young musicians - Bill Black, D.J. Fontana and Scooty Moore. Along with Elvis, they made rock 'n' roll and changed the face of music forever. Here is the lowdown on the early band members in the King's career.

ScottyMoore:

Winfield Scott "Scotty" Moore III (born December 27, 1931 near Gadsden, Tennessee) is a legendary American guitarist and member of the Rock and Roll Hall of Fame. Scotty Moore learned to play the guitar from family and friends at eight years of age. Although underaged when he enlisted, Moore served in the United States Navy between 1948 and 1952.

Moore's early background was in jazz and country music. A fan of guitarist Chet Atkins, Moore led a group called the "Starlite Wranglers" before Sam Phillips at Sun Records put him together with Elvis Presley. In 1954, Moore and double bassist Bill Black played on the Sun Studios session with Presley that cut "That's All Right (Mama)", a recording regarded as a seminal event in rock and roll history. Elvis, Black and Scotty Moore then formed the "Blue Moon Boys." They were later joined by drummer D.J. Fontana. Beginning in July of 1954, the "Blue Moon Boys" toured and recorded throughout the American South and as Presley's popularity rose, they toured the United States and made appearances in various Presley television shows and motion pictures.

Moore played on many of Presley's most famous recordings including "Good Rockin' Tonight", "Baby Let's Play House", "Heartbreak Hotel", "Mystery Train", "Hound Dog", "Too Much" and "Jailhouse Rock".

In the 1960s, Moore released a solo album called The Guitar That Changed the World. He performed on the NBC television special called Elvis Presley's '68 Comeback Special.

In 2005, Scotty Moore was inducted into the Rock and Roll Hall of Fame.

Bill Black:

William "Bill" Patton Black, Jr. (September 17, 1926 - October 21, 1965), is an American musician. Born in Memphis, Tennessee, in July of 1954, Bill Black played bass ('slapped/rockabilly' upright double) with guitarist Scotty Moore while Elvis Presley sang "That's All Right (Mama)" in a Sun Studios session in Memphis that is considered a seminal event in the history of Rock and Roll.

Bill Black would go on to play double bass on early Presley recordings including "Good Rockin' Tonight", "Heartbreak Hotel", "Baby Let's Play House", "Mystery Train", "That's All Right", "Hound Dog", "Too Much" and "Jailhouse Rock" during the late 1950's. After leaving Presley he had a subsequent career as the leader of Bill Black's Combo which made a number of commercially successful instrumental records in the early 1960s.

He died of a brain tumour in 1965 at the age of thirty-nine and is buried in "Forest Hill Cemetery" in Memphis, Tennessee.

D.J Fontana:

D.J. Fontana began his incredible career as a staff drummer in 1953 on the famous Louisiana Hayride. While working the Hayride in 1954 D.J. met Elvis. They formed a common bond of friendship and admiration for each other's immense talents. D.J., Scotty Moore and Bill Black formed Elvis' original band. D.J. was the man behind the beat for the first 15 years of Elvis' career. D.J starred in Loving You, Jailhouse Rock, King Creole and G.I Blues. D.J starred on TV with Elvis in The Dorsey Brothers Stage Show, The Milton Berle Show, The Steve Allen Show, The Ed Sullivan Show, Welcome Home Elvis 1960 and The 68 Comeback Special. D.J. and Scotty received the Nashville Music Award for the best Independent Album Of The Year in 1998 for All The Kings Men. They were also nominated for a Grammy in 1998 for Going Back To Memphis, from their CD All The Kings Men. D.J. along side Scotty played on approximately 460 RCA cuts with Elvis.

Also working with the lads, Elvis sung with the gospel group The Jordanaires.

Gordon Stoker, Neal Matthews, Hoyt Hawkins, and Hugh Jarret made up the legendary Jordanaires. One Sunday afternoon, in 1955, the Jordanaires played a show in Memphis with Eddy Arnold. They had just completed the "Eddy Arnold Show" for TV in 1954, and, were in Memphis, publicizing the series. The Jordanaires had sung "Peace In The Valley" on the show that afternoon. When the show was over, a young man, blond, quiet and courteous, and, plenty of combed-back hair, came backstage to meet them. He was Elvis Presley, a young, practically unheard of singer, just getting his start in the area. There were a few polite exchanges, then Elvis said, "If I ever get a recording contract with a major company, I want you guys to back me up." He was on "Sun" at that time. Thinking back to that night, The Jordanaires' first tenor, Gordon Stoker, remembers wishing Elvis well, "But we never expected to hear from him again," he said. "People were always coming up and saying that. We're still told that."

Sure enough!! Elvis recorded his first session with RCA on January 10, 1956, with Scotty, Bill, and, D. J. . That day, "I Got A Woman", "Heartbreak Hotel", and, "Money Honey" were recorded. On January 11, 1956, Gordon Stoker was called by Chet Atkins to do a session with a "new-probably-wouldn't-be-around-long kid, named Elvis Presley"---oily hair, pink shirt, black trousers. RCA had, also, just signed "The Speer Family". Chet asked Gordon to sing with Ben and Brock Speer so he could use them. On that day, "I'm Counting On You" and "I Was The One" made history by being the first recording session that Elvis, did with vocal background. By April 1956, "Heartbreak Hotel" was "No. 1". After having done several more recording sessions in New York with Scotty, Bill and D. J., Elvis flew to Nashville on April 14, 1956, to record "I Want You, I Need You, I Love You". Gordon was called, again, to sing a vocal trio with Ben and Brock. After the session, Elvis took Gordon aside and told him (not knowing, at the time, why all the Jordanaires were not there) that he wanted "the" Jordanaires on all his future recording sessions. This time, Stoker saw to it that it was known - and - true to his word - Elvis used the Jordanaires on nearly every one of his recording sessions for the next 14 years. At a time when no backing musicians, producers, or engineers received a name recognition on any records, Elvis insisted that he have the "Jordanaires" on the "labels" of his records. The reflected glory was enough to earn the Jordanaires "Group of the Year" awards well into the Beatles era.

They were with Elvis untill 1970 when Elvis went on tour again and they stayed in Nashville. Two of my fave Elvis albums have the Jordanaires on it, His Hand In Mine and How Great Thou Art are amazing albums!!!!!!! Also I love the voices of the Jordanaires sooooooo much! It's known that they sung over 200 songs with the King of Rock 'n' Roll!!

1970 till 1977:

Elvis went back on tour again after making films in Hollywood. He got together a new band and singers. His band in the 1970's were called the TBC band and here is the information on them:

James Burton - Lead Guitar:

James Burton began his career at age 14, playing guitar in the house band for Shreveport's famed Louisiana Hayride. While playing in Dale Hawkins' band in 1955, he wrote the music for the hit song Susie-Q and recorded it with Hawkins. In 1957, he began a nine-year run as guitarist for Ricky Nelson, including recording sessions and concert tours with Nelson and weekly appearances on the Nelson family's classic television show The Adventures of Ozzie and Harriet. By the mid-sixties, Burton was in demand as a session player and made some recordings of his own. Among the many artists he has recorded with over the years are: Elvis Presley, Ricky Nelson, Jerry Lee Lewis, Roy Orbison, John Denver, Johnny Cash, George Harrison, Rosanne Cash, Frank Sinatra, Henry Mancini, The Byrds, The Everly Brothers, Tina Turner, Elvis Costello, Andy Williams, Dolly Parton, Linda Rondstat, Hank Williams, Jr., Emmylou Harris, Willie Nelson, Dean Martin, Glen Campbell, Merle Haggard, Waylon Jennings, Arlo Guthrie, Johnny Mathis, The Mamas and the Papas, The Mills Brothers, Herb Alpert, and many others. Elvis himself called James Burton and asked him to help put together a band for his 1969 engagement in Las Vegas. Burton was Elvis' lead guitarist in concerts for Vegas and national tours, and on many recordings, from 1969 until Elvis' death in 1977. The next long-term gig for Burton was recording and touring with John Denver for a number of years. Today, he continues to work with a wide variety of artists in the studio and on the road, and he is involved in a broad range of projects. Among guitarists James Burton has become an icon, and his influence on generations of guitar players, both the famous and the unknown, is unmistakable.

Glen D. Hardin - Piano:

Glen D. Hardin was born on April 18, 1939 in Hollis, Oklahoma. He began his career with fellow Texan Buddy Holly as a member of his band The Crickets. He started playing piano for Elvis in January 1970, taking over from Larry Muhoberac. His first show with Elvis was in Las Vegas on January 26, 1970. Glen also liked to try different sounds and ways of playing some of Elvis' most beloved and new songs. His first studio recording happened with Burning Love on March 27 1972. His last show with Elvis was on December 31, 1975 in Pontiac, MI. He recorded last with Elvis in the Jungle Room of Glaceland during Feb 2-8 1976 when Elvis recorded Hurt and Moody Blue. Glen had performed with Elvis an amazing 889 times!!!!!!!!!!!!!! Glen still plays with Elvis and the other members of the TCB in Elvis The Concert.....which travels around the world ( It's an amazing concert!!!!!!!!!!!)

Jerry Scheff - Bass Guitar:

Jerry Scheff grew up in the San Francisco Bay area, started playing tuba in grammar school and, by seventh grade, got into playing string bass. His musical bent was toward jazz and R&B. By age fifteen he was playing in clubs in his new hometown of Sacramento and back in San Francisco. As a high school senior Scheff joined the U.S. Navy and wound up in the Navy's school of music in Washington, D.C. taking a nine-month course studying theory and harmony and getting to play with some great musicians. After the course ended he stayed on to teach, moonlighting as a player in jazz clubs, then the Navy transferred him to San Diego. Some time after his service discharge Scheff moved to Los Angeles and played regularly at a club called The Sands in Watts, where a teen-aged Billy Preston often appeared doing James Brown covers. Oddly enough, bass player Scheff began his work in the L.A. recording session scene playing valve trombone. The first hit record Scheff played bass on was an album by the group The Association, including the singles Along Comes Mary and Cherish. On Mary, Scheff made a bass mistake that got left in, so the thrill of hearing his work on a radio hit was counterbalanced by his cringing every time he heard the mistake. However, a couple of years later, it was gratifying to hear an "elevator music" cover of it that had the bass player copying Scheff's part, bad note and all. A special career highlight was playing on The Doors' album LA Woman. Over the years Scheff recorded with Bobby Sherman, Tiny Tim, Johnny Mathis, Nancy Sinatra, Sammy Davis, Jr., Bobby Vinton, The Everly Brothers, the Nitty Gritty Dirt Band, Dionne Warwick, Barbra Streisand, Linda Rondstat, Judy Collins and many others. By the late sixties he crossed paths with guitarist James Burton, who remembered Scheff's work and called him when putting together the band for Elvis in 1969. Scheff worked with Elvis from 1969 to 1973 and 1975 to 1977, on stage and on a number of recordings. Reflecting on those years, Scheff says "Elvis had a big impact on my career. It was like going to school." Today, he continues to work as a session musician with a wide array of artists. A passion in recent years has been song writing. Although much of his career has been working with rock and pop greats, he still enjoys sitting in to play a little jazz every once in a while, as he says "to keep the cobwebs clear." Both of Scheff's sons, Darin and Jason, are musicians. Jason Scheff took over Pete Cetera's spot in the band Chicago. He also travels the world with Elvis The Concert.

Ronnie Tutt - Drums:

Ronnie Tutt is originally from Dallas, Texas. He studied music at the University of North Texas, playing gigs in the Dallas/Fort Worth area, and held staff positions (drums and vocals) at two 'jingle' studios. In 1963 he moved to Memphis and played with some of that city's great rhythm sections during an exciting time in Memphis music history. In 1969, he auditioned for Elvis, who was putting a band together for his 1970 Las Vegas tour. Ronnie got the job. Ronnie's talent was amazing and Elvis took to him fast, they became life long friends. Elvis liked the way Ronnie would watch him, take in his moves and the way Elvis would joked around with him on stage. Their musical communication was a huge part of the live shows. From 1969 till 1977, Ronnie played live on stage and in the studio with Elvis and remained loyal till this very day. After Elvis passed away, Ronnie became a studio drummer in LA and then moved to Nashville. Ronnie's work with Elvis is never forgotten but Ronnie has also worked with other legends of rock and pop. For many years he was a member of the Jerry Garcia Band, doing albums and touring non stop. Since 1981, Ronnie has been a member of the Neil Diamond Band, has endorsed DW Drums, Paiste Cymbals and Calato/Regal Tip Drumsticks. Ronnie, along with the other TCB band, travels the world with Elvis The Concert.

Elvis also had a musical Director & Conductor during the 1970's

Joe Guercio:

Joe Guercio has enjoyed a prolific career, but he is probably best known and admired for his work with Elvis Presley. He was musical director and conductor for Elvis' concert shows from the summer of 1970 to the summer of 1977 when Elvis made his last concert appearance. Elvis was known for spontaneity and improvisation on stage and the cast had to be ready for anything. Guercio remembers "He'd just turn around and start a tune. The rhythm section knew him backwards and forwards, but when you're up there conducting a twenty-six-piece orchestra, what are you gonna do?" In describing that experience, Guercio once commented good-naturedly that conducting for Elvis was "like following a marble down concrete steps." This led to his being a target for a particular practical joker. Guercio later found his stage tux stuffed with marbles and a few hundred more rolling around in his dressing room. Along with the marbles was a note: "Follow the marble - E.P."

Guercio was musical director for the International Hotel in Las Vegas when the work with Elvis began. Along with the obvious contributions he made to Elvis' shows, including many of the triumphs of Elvis' "concert era", it was Joe Guercio who created the now almost iconic six-note theme for Elvis' stage entrances and bows. It was also Guercio who suggested that Elvis' shows open with Theme from 2001 - A Space Odyssey (Also Sprach Zarathustra). The inspiration came when Guercio and his late first wife saw the now-classic science fiction movie in a theater, for when the music began Mrs. Guercio whispered to her husband "You'd think Elvis was about to enter."

Joe Guercio first left his native Buffalo, NY as an accompanist for Patti Paige. He has lived in Las Vegas since 1967 and has been a musical director for Diana Ross, Jim Nabors, Florence Henderson, Diahann Carroll, and Steve Lawrence and Eydie Gorme, among others. His arrangement of the medley Sweet Inspiration/Where You Lead was a 1972 hit for Barbra Streisand, and his arrangement of The Way We Were/Try to Remember was a 1975 hit for Gladys Knight. Guercio's work with Natalie Cole to reunite her on stage in duet with her late father, Nat King Cole, pre-dated her famous early 1990's duet recordings and videos with Mr. Cole. Recently, Guercio accompanied blues legend B.B. King to Rome to meet Pope John Paul II and perform in the Vatican's fifth Christmas concert.

Elvis also had a number of gospel quartets and soulful harmonie groups too. Here is the full list of backing groups which sung with Elvis.

The Imperials:

Sherman Andrus, Terry Blackwood, Jeo Moscheo and Jim Murray make up the gospel band The Imperials. Elvis loved gospel music, particularly male gospel harmony, which was not only a major part of his gospel recordings, but also an element in the sound of much of his pop, rock and country work. The Imperials first worked with Elvis doing some of the backing vocals in the 1966 sessions for his How Great Thou Art album, which won Elvis his first Grammy Award, Best Sacred Performance for 1967. The Imperials worked on a regular basis with Elvis on stage and in the recording studio from 1969 until the latter half of 1971, beginning with his triumphant 1969 Las Vegas engagement. A major highlight of their collaboration with him was the 1971 recording (1972 release) of He Touched Me, an album that earned Elvis his second Grammy Award, Best Inspirational Performance for 1972.

Gospel legend and former Statesmen Quartet member Jake Hess founded The Imperials in 1964, putting together what he would call a "super group" in the gospel music industry. By the late sixties, they had a new look and sound, a bit on the "mod" side, which drew criticism from some circles, but the group prevailed. They sold a lot of records, enjoyed a long series of major TV guest shots, toured with country singer Jimmy Dean and appeared regularly on his weekly TV show, and the group had regular bookings in Las Vegas, Reno and Lake Tahoe. And, of course, there was the special association with Elvis Presley. Over the years, the group in its various membership incarnations has released over forty albums with fourteen of their songs hitting number one, and they have racked up twelve Grammy Awards and 13 of the gospel field's Dove Awards. They were the first Christian group to perform on a Grammy Awards telecast. Their catalog of songs is one of the most enduring in all of gospel music, many of them landmark recordings that raised the standards for the gospel music industry at large. Like Elvis' other male back-up groups, The Jordanaires and The Stamps, The Imperials' current and former members are recent inductees into Gospel Music Association's Hall of Fame.

As with so many enduring groups, there have been personnel changes in The Imperials over the years. Terry Blackwood and Jim Murray, who regularly participate in our show, Joe Moscheo, who has toured with our show at times, and Roger Wiles, who has participated in some shows, were all members of The Imperials during the group's tenure with Elvis. Sherman Andrus, who regularly tours with us, joined The Imperials shortly after the group stopped working with Elvis in 1971. He got to know Elvis because The Imperials remained close to him and often sang together with him informally, while J.D. Sumner & The Stamps took over the role of onstage male backing vocalists. Imperials members from the Elvis days have all gone on to separate careers in and out of the music business. Armond Morales, who was with the group when they worked with Elvis, owns the Imperials name and has kept the group going with new members. We thank Armond for allowing us the use of the name in our reunion of former members from the Elvis days.

In accommodating scheduling needs for our tour and the other professional obligations of the two groups, former Imperials and former Stamps have alternated from tour to tour as the male backing vocalists for our show since we first hit the road in 1998. In more recent engagements, members of Voice, another male vocal group that backed Elvis, have also participated.

J.D Sumner And The Stamps Quartets:

J.D Sumner, Ed Enoch, Ed Hill and Rick Strickland make up the amazing J.D Sumner And The Stamps Quartet. The lowest vocal bass note ever recorded by the Guinness Book of World Records came from J.D. Sumner. It's only one of a long list of great moments in the life of the late musical legend. For much of his career he headed up the Stamps Quartet, one of the greatest success stories in the gospel music industry. The group was nominated for Grammy, Dove and TNN awards, and they toured the world in concert. Sumner was credited with being a major force in the formation of the Gospel Music Association, the Dove Awards and the National Quartet Convention, and for being a significant influence in leading the gospel world to even greater levels of professionalism and organization. His direction and management of the Stamps was, and continues to be, a model for many other groups.

The Stamps worked with Elvis Presley from 1971 to 1977 as the male back-up group for his concerts in Las Vegas and on national tour, and they worked with him on numerous recordings. (The Imperials backed Elvis from 1969 to 1971, and the Jordanaires were Elvis' male back-up group in the 50's and 60's.) The most recent configuration of The Stamps was comprised of: J.D. Sumner (bass), Ed Enoch (lead), both of whom worked with Elvis from 1971 to 1977, and Ed Hill (baritone), who worked with Elvis in the latter two years of that period, and Rick Strickland (tenor) who joined in the early 1990s and is a lifelong Elvis fan. In the Elvis tour days, other members at various times included Bill Baize, Donnie Sumner, Larry Strickland, Dave Rowland, current record industry executive Tony Brown, and current Oak Ridge Boys member Richard Sterban.

Sumner's relationship with Elvis long pre-dated the Stamps' employment with him. Elvis, as a teenager with sideburns and loud clothes, frequently attended the monthly gospel sings at Ellis Auditorium in Memphis. He became a regular fixture backstage, meeting and talking with the singers he admired so much. One of those singers was J.D. Sumner, then part of the Blackwood Brothers. Sumner and the others came to expect to see Elvis whenever they were in town. One night, the kid wasn't there, so when they played Memphis again, Sumner asked Elvis why he hadn't been there. Elvis confided that he simply had not had the money for a ticket. From then on, Sumner got Elvis in free through the stage door. Said Sumner, "The next thing I knew, Elvis was letting me in free through his stage door!"

With great success J.D. Sumner & the Stamps continued to make recordings and television appearances, and they constantly toured in concert, performing gospel music as only they could. They also continued to have very strong ties to the Elvis phenomenon through their friendship with Graceland/EPE and their loyal following of Elvis fans. The Stamps, including former members, are 1998 inductees into Gospel Music Association's Hall of Fame.

J.D. Sumner & The Stamps participated in the March 1998 tour of Elvis-The Concert in America. The next booking for J.D. and his group for our show was January/February 1999, our first European tour. Sadly, J.D. died in November 1998, but the remaining Stamps fulfilled the tour engagement. Ed Enoch, Ed Hill and Rick Strickland then formed a new group known as Ed Enoch & The Golden Covenant. Strickland has since left that group. Enoch and Hill, along with new members Butch Owens and Royce Taylor, tour with our show from time to time. In 2003, Ed Enoch acquired the trademark rights to the name Stamps Quartet and renamed his group accordingly. Alternating with The Stamps Quartet on our tours are former members of The Imperials and Voice, two male vocal groups that backed Elvis. Former Stamps members from the Elvis days other than Enoch and Hill also participate from time to time.


The Sweet Inspirations:

Estelle Brown, Portia Griffin, Sylvia Shemwell and Myrna Smith make up the wonderful Sweet Inspirations. The soulful harmonies of the Sweet Inspirations have enriched recordings by Aretha Franklin, Wilson Pickett and other legends. They have collaborated with writers and producers such as Carole King, Burt Bacharach and Hal David. They've had success with R&B, gospel and pop recordings of their own, most notably their first hit single Sweet Inspiration, which gave the group their name in the late sixties and earned them a Grammy nomination. It was that song that caught the attention of Elvis Presley, who signed them to provide backing vocals and be an opening act for his record-breaking 1969 Las Vegas engagement, his official return to the live concert stage after his triumphant '68 TV special and the end of his Hollywood movie contract obligations. No audition was required. The Sweet Inspirations met him when they arrived for the first rehearsals for the '69 engagement. The "Sweets" worked with Elvis in Vegas, on his national concert tours and on recordings from 1969 to 1977.

Myrna Smith, Sylvia Shemwell, Estelle Brown and Cissy Houston (mother of superstar Whitney) were the members when the group first worked with Elvis. Houston left to go solo after the first gig with Elvis. Among those to fill the vacant spot was Anne Williams, who joined them in 1970 for a short time. Brown, Shemwell and Smith soon settled on being a trio. The three stayed together and worked with Elvis until the end of his life. They eventually went their separate ways professionally. In the early 1990's they started performing together again. Due to illness, Sylvia Shemwell has not been touring with us for the last couple of years. Today, new members Portia Griffin and Kelly Jones join original members Myrna and Estelle on our tours of Elvis-The Concert.

Myrna Smith recalls that first meeting with Elvis, "He walked in and had on a chocolate colored suit. He had a tan, and he looked absolutely gorgeous. He walked over to us and introduced himself - like we didn't know who he was: 'Hi, I'm Elvis Presley.' (Cissy literally fell off her stool.) From then on, whenever he'd see us, it was always a kiss." Smith remembers his talent, "He had so much energy. His voice was a lot more remarkable than it ever came off on record...He was just a much better singer than could ever be captured...Some great singers' voices are just too big. Elvis' was like that."

Elvis also worked and sing with two soprano vocals - Here are the names and information

Millie Kirkham:

Millie Kirkham's association with Elvis Presley began with a 1957 recording session, one that yielded, among other classics, Blue Christmas, which features some of the most unique vocal background work she and the Jordanaires ever did with the superstar. Throughout the next twenty years Kirkham's strong, clear soprano could be heard on many of Elvis' pop, rock, gospel and country recordings such as The Wonder of You, Surrender, How Great Thou Art, Polk Salad Annie, Bridge Over Troubled Water, Don't, Just Pretend, Devil in Disguise, C. C. Rider, and many others. She also sang with Elvis on movie soundtracks and appeared with him on stage in Las Vegas. Kirkham has long been a fixture in the music community in Nashville. Her credits include numerous radio and television appearances, collaborations with the Jordanaires and the Anita Kerr Singers, and recording sessions in Nashville, Los Angeles and Las Vegas. Among the many artists she has recorded with are Roy Orbison, Dolly Parton, Jerry Lee Lewis, Burl Ives, Johnny Cash, Brenda Lee, Willie Nelson, Pete Fountain, Bob Dylan, Perry Como, Carl Perkins, Rosemary Clooney, Little Richard, Reba McIntire, Brook Benton, Tammy Wynette, Vic Damone, Paul Anka, George Jones, Patti Paige, Les Paul & Mary Ford, Eddy Arnold, Loretta Lynn and, of course, Elvis Presley.

Millie Kirkham was with us for our first several tour outings. I never got to hear her sing live and I know she has an amazing voice!

Kathy Westmoreland:

Elvis would always call Kathy the little girl with a beautiful high voice - And she was! Born on August 10, 1945 in Arkansas, Kathy was not new to show biz; her father appeared in two MGM movies, The Great Caruso 1951 and The Student Prince 1954. Replacing Millie Kirkham, Westmoreland toured with Elvis during his 70's concert tours. Before too long their on-stage relationship turned to romance. During the time Elvis dated Kathy he bought her several cars including a blue Continental Mark V.

A rather embarrassing incident occurred at the North Carolina concert on July 20, 1975 when Elvis introduced Kathy by saying "This Kathy Westmoreland our soprano singer, who doesnt like the way I introduce her if she doesnt like it, she can get the hell of the stage." Shocked! Kathy and two other singers walked off the stage in front of the audience. Later Elvis apologised and they became friends again, and remained so till his death.

In her revealing autobiography, "Elvis and Kathy", she admits to falling in love with Elvis and sleeping with him. Noting that sex was involved. Her book also covered the fact that she, Larry Geller and Charlie Hodge were told my Elvis doctor, Dr Nickopoulos that Elvis was dying of bone cancer.

Today Kathy has her own fan club, a website, and about to release a CD of the songs recorded in 1978, to include the tribute single, You Were the Music and the song she sang at Elvis funeral & My Father Watches Over Me.

Now onto something which should NEVER be left out or forgotten! Not only did Elvis work with amazing musicians and singers, he worked with two the world's most famous song writers. Do you know who I am talking about??

Jerry Leiber and Mike Stoller

Jerry Leiber was born April 25, 1933 and Mike Stoller was born March 13, 1933.

Leiber came from Baltimore, Stoller from Long Island, but they met in Los Angeles, where both attended Los Angeles City College. After school, Stoller played drums and Leiber worked in a record store and, when they met, they found they shared a love of blues and rhythm and blues. In 1950, Jimmy Witherspoon recorded and performed their first commercial song, Real Ugly Woman. Their first hit composition was Hard Times recorded by Charles Brown, which was a rhythm and blues hit in 1952. At the same time, they wrote Kansas City which was also recorded in 1952 with Little Willie Littlefield but became a No. 1 hit in 1959 for Wilbert Harrison. In 1953 they wrote Hound Dog for Big Mama Thornton; it became a major hit for Elvis Presley in 1956, although in a bowdlerized version. Their later songs often had lyrics more appropriate for pop music, and their combination of rhythm and blues with pop lyrics revolutionized pop and rock and roll.

They formed Spark Records in 1953. The label was later bought by Atlantic Records, who hired Leiber and Stoller as independent producers. At Atlantic they re-vitalized the careers of the Drifters and continued to turn out hits for the Coasters. Their songs from this period include Smokey Joe's Cafe, Riot in Cell Block #9, Charlie Brown, Stand By Me, Save the Last Dance for Me, and On Broadway among numerous other hits (for the Coasters alone they wrote twenty-four songs which appeared in the national charts).

Phil Spector served an "apprenticeship" of sorts with Lieber and Stoller in New York, developing his record producer's craft while assisting and playing on their sessions, including guitar on On Broadway.

In the 1960s Lieber and Stoller founded and briefly owned Red Bird Records, which issued the Shangri-Las' Leader of the Pack and the Dixie Cups' Chapel of Love. After selling Red Bird they worked as independent producers, and continued to write songs. Their best known song from this period is Is That All There Is? recorded by Peggy Lee in 1969. Their last major work was Stuck In the Middle With You recorded by Stealers Wheel in 1972.

They won Grammy awards for Is That All There Is? and for the cast album of Smokey Joe's Cafe, a 1995 Broadway musical based on their work.

Mezzo-soprano Joan Morris and her pianist-composer husband William Bolcom have recorded an album of "other songs by Leiber and Stoller," featuring a number of their more unusual (and satiric) works (including Let's Bring Back World War I, written specifically for them, and Humphrey Bogart, a tongue-in-cheek song about obsession with the actor).

Leiber and Stoller have a star on the Hollywood Walk of Fame.