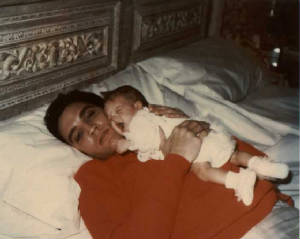 Lisa Marie Presley was born on Thursday February 1st 1969, after a 5 hour labor at 5.01pm. Lisa was born nine months to the day after her parents got married. The name Marie was chosen in honour of Col. Tom Parker's wife.

Elvis never called her daugther Lisa unless he was mad at her. He always called her Yisa or Buttonhead. Elvis once caught Lisa singing away in his bathroom at Glaceland, when she was 2 years old. She remembers him watching, making the Memphis Mafia watch and then Vernon came too. At night, Elvis would also wake Lisa, place her on a table, get her to sing and dance. He was so proud of his little girl.

Elvis give his toddler daugther birthday gifts such as Solt Machines, St. Bernard Puppies and an entire room full of balloons! At age 3, Lisa got a Mink coat and a diamond ring. When Lisa was age 5, she was in Las Vegas and watched as her Daddy sang ' The First Tim Ever I Saw Your Face' to her.

One of Lisa Marie's more elabrate gifts was a customised baby blue golf cart with a rose painted on the side. The last thing Elvis and Lisa did together was take a ride on that very cart on the evening before he died.

Lisa Marie's bedroom in Glaceland is still the same as it was when she was a little girl. She goes back to her childhood home alot, sometimes on Elvis week. Elvis also left everything to Lisa in his will. It was held in trust until her 25th birthday. When she reached that age, she decided to keep it in trust for another 5 years.

Lisa began to abuse drugs in her early teens, but Priscilla got her back on track when Lisa joined The Church Of Scientology at the age of 17. There she met musician Danny Keough, whom she married. They were married for 6 years and had 2 children together, Danielle and Benjamin. Danielle is now a top model and made her catwalk debut at the age of 14. It seems that Bemjamin can move like his famous Grand-Dad!

In 1994, Glaceland meet Neverland when Lisa married Michael Jackon in a secert ceremany in the Dominican Republic. They first met many years ago when Elvis took Lisa to an Jackson 5 concert, they met backstage! Lisa was happy to be marrieed to Micheal because he was just as famous as she was and they understood each other. Shame Lisa began to feel used by Micheal for a PR stunt, she then dumped him in 1996.

Then Lisa married Elvis fanatic Nicolas Cage on August 10 2002. In November he filed for divorce. Lisa wont talk about their short marrage or why it ended.

Since her 20th birthday in 1998, Lisa Marie has chaired Elvis Presley Enterprises. Earlier this year, Lisa Marie sold Glaceland for $100 million. The reason is because Lisa Marie has $25 million in debts of which she will be absolved under this deal. Lisa believes her Father would have been happy with this deal. "Would he have wanted me to do the best thing for the future, for expanding the estate, for protecting his family?" LMP asks. "The answer would have been - Hell, yes."

Lisa has also two albums out! Her first album ' To Whom It May Concern ' came out in 2003. In 2005, there is due to come out in the UK ' What Now'. Her first album did very well in the charts and sold 140,000 copies during its first week of release in April. It was also one of the year's highest debuts with its number five position on Billboard. What Now seems to follow in that way!

LMP ROCKS!!!!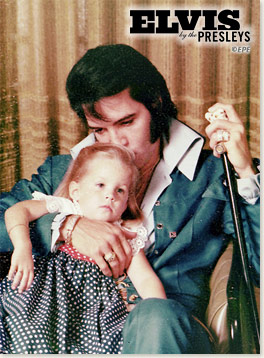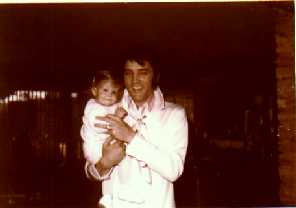 Lisa with her Daddy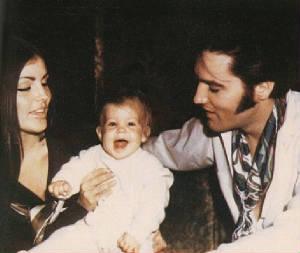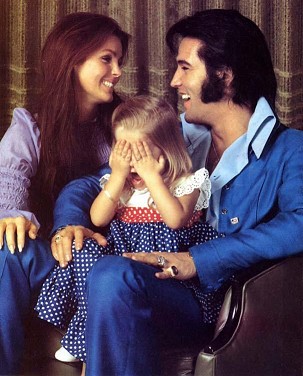 The happy Presley family