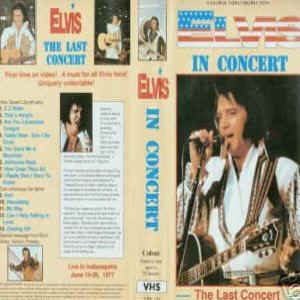 On June 1st, 1977, it was announced that Elvis had signed with CBS-TV for an anniversary speical. Elvis' final concert tour began on June 17, in Missouri and filming would commence two days later at the Civic Auditorium in Omaha. Here is the mailgram Elvis sent to Col. Tom Parker about the Live TV Shows:

Colonel Tom Paker
Manager of Elvis Presley
Care of RCA Record Tours
6363 Sunset Blvd
Hollywood CA 90028

Dear Colonel,

I am looking forward to doing the special for CBS Television during our June tour this summer. As I understand we will have complete control under your direction as to format and total productions. I will of course cooperate to the fullest to make this one of our best specials ever. I understand that CBS Television is to handle the negotiations of the use of the all talent on my show when needed for the special with Felton Jarvis my record producer for me. Thanks for everything, see you on tour.

Elvis

23116 EST

On June 26th 1977, Elvis played his last ever concert in Indianapolis. Elvis was very over-weight and seemed ill, but he wanted to slience the press and make his loyal fans happy. He played in excess of 18,000 fans as they watched his last and most historic performance. Elvis showed the whole world he was still the King. There is what Elvis sung that night:

See See Rider
That's Alright
Are You Lonesome Tonight?
Teddy Bear/Don't Be Cruel
Give Me a Mountain
Jailhouse Rock
How Great Thou Art
I Really Don't Want To Know
Hurt
Hound Dog
My Way
Can't Help Falling In Love

During the show, Vernon Presley came onto the stage. The Father and Son stood side by side, they looked so happy. When the show came to an end, Elvis looked out to his loyal, beloved fans there and around the world and said:

' Til we meet you again, may God bless you. Adios'

He left the building with the sounds of screams and yells ringing in his ears. He seemed he needed rest and went home to get ready for the other tour on August 16th. Then just over 7 weeks, on August 16th 1977, Elvis went into the bathroom at Graceland and never came out. He passed away at the age of 42. Millions through-out the world mourned Elvis' death and the music world and alot of his fans were never the same again.

The CBS-TV special was screened posthumously on October 3rd, 1977, and many fans experienced mixed emotions. This concert showed everyone that Elvis was human and had his troubles, but he wanted to keep singing/touring and making his fans happy. The soundtrack album charted on October 28, reached No.5 and certified platinum. The front cover featured the famous ' Falcon' suit from June 1975. The vinyl gatefold and back photo were live shots from June 1974 and April 1977 respectively.

'My Way' was released as a single in November 1977 abd reached No.22. Later that year, Elvis was voted the Number One Box Office Draw' for arenas seating 6,000 to 20,000.

In 2008, on August 16th 1977, it will mark the 30th anniversary of Elvis' death. The musical legacy left by Elvis keeps on to achieve excellent sales through-out the world. This year, 2005, marked Elvis getting 21 UK No.1's, he was voted The Most Successful Act In The UK, he had a 2005 sell out tour and Graceland keeps on releasing new and unheard concerts on CD and DVD. The King left the building for good on August 16th 1977......but Elvis is still here in mind, body, soul and heart.