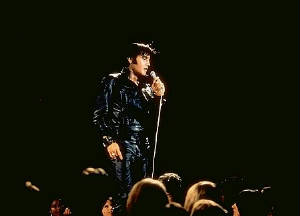 In the end, it's all about the music, and the music just keeps on playing!

Elvis had sold over one billion records and has received more gold and platinum discs then any other artist. Elvis's first US No.1 was his very first single with RCA in 1956 was Heartbreak Hotel. His latest was A Little Less Conversation in 2002. Elvis's first UK No.1 was All Shook Up in 1957. His last UK No.1 and his 21st No.1 was It's Now Or Never.

Elvis was the first artist to amass over one million US advance orders for a single with Love Me Tender - A gold record before it was even released. Elvis also became the first person ever to succeed himself at No.1 when Love Me Tender replaced Hound Dog at the top of the US charts.

His biggest selling single of all time was Its Now Or Never. It sold 1,210,00 copies in the UK alone and was also, like I said above, his 21st UK No.1.

Wooden Heart spent the longest time in the UK charts - a huge 27 weeks!

The soundtrack to Blue Hawaii was the best selling Elvis album in his lifetime.

The ELVIS: 30 No.1 Hits CD has sold 10 million units so far, topping the charts in 26 countries, including Indonesia, The United Arab Emirates and Chile.

According to Guninness British Hit Singles, Elvis has appeared in 1,193 of the weekly charts since they started recording these things in 1952. This remains an unbeaten achievement.

In 2003 Q magazine named Thats All Right as the most influential song ever recorded.

From 1956 to 1962, Elvis made 31 of RCA's 39 million selling singles.

Elvis's first recording session for RCA was on Tuesday January 10th 1956, two days after his 21st birthday. Elvis told producer Steve Scholes ' Dont make me stand still. If I cant move, I cant sing!'. He played guitar until his fingers bled - and he jumped around to much that he ripped his trousers. Chet Atkins, a guitar player, called his wife to watch the recording because he's never seen anything like it!

In that first session Elvis recorded I Got A Woman and Heartbreak Hotel. When RCA heared the results they told Steve Scholes there was nothing worth releasing, and they were told to work harder! They only put out Heartbreak Hotel for the want of anything better!! Heartbreak Hotel was released on Friday January 27th 1956. It sold two million copies, broke all records and became the first song to pop all three US charts - Country and Western, Rhythm and Blues and Pop.

Right from Elvis's first song with with, RCA had to use the pressing plants of other record lables to keep up with the demand.

Elvis took much longer then normal at the time to record a song - He would do as many as forty takes then pick one take from memory. And nothing was ever written out in the recording studios - The arrangements just came along as Elvis tried things out. He was effectively his own producer, right from his very first session.

Elvis's first album simply Elvis Presley, contained cuts from the recent RCA sessions and some unreleased Sun sides. The album sold 300,000 copies, was the first ablum to make a million dollars, and was the first rock and roll album to reach No.1 where it stayed for 10 weeks. The album's cover photo of Elvis, mouth open in mid-song, was taken at the Fort Homer Hesterly Armory in Tampa on May 8th, 1955. The unposed, tonsil revealing, monochrome photo, combined with the green and pink lettering of Elvis's name, made an album cover unlike any seen before.

Songwritting duo Leiber and Stroller wrote many hits for Elvis, including Don't and Love Me. They were initially wary about meeting him as neither were Elvis fans and they thought he'd be dreadful, but they were won over by his encyclopaedic knowledge of music and his total dedication in the studio.

RCA were initially against the idea of Elvis singing gospel songs, as they were scared it would upset his fan base. But Elvis insisted on singing Peace In The Valley for his mother on The Ed Sullivan Show, so they brough it out an EP of the same name. It was a million seller and best selling gospel EP of all time.

Elvis would signal his opinion of a demo in a recording session by patting his head if he liked it or running his finger across his thoat if he didnt.

Elvis recorded most of his musis as he livedd, from dusk to dawn.

After years of singing movie songs, which he hated, Elvis recorded his 1968 TV Speical, poured his soul into If I Can Dream and he would never again record a song he didnt believe in. His next album From Elvis In Memphis, was recorded in 1969 at the American Studio and his finest ever.

The 1970's recording sessions with Elvis are legendary for their guns, costume changes, karate and the odd tantrum, but the musicians who came back again and again clearly thought it was worth it.

Elvis's last-ever recording session in a commerical studio took place at the Stax Studio in Memphis in December 1973. It turned out to be a creative tour de force, so Elvis clearly wasnt put off by the widescreen TV's he'd installed for the Monday night football - Nor by the 300 hamburgers that he had delivered.

The last album Elvis mad in his life was Moody Blue in 1976. The album was recorded in the den, now known as the Jungle Room, at Glaceland, with a mobile RCA recording unit called Big Red out in the yard. At the first recording session for Moody Blue, Elvis startled the band by showing up in his Denver Police uniform. He then disappeared at regularr intervals to consider ways to dispense vigilante justice to the bad guys of Memphis.

The last song Elvis recorded at Glaceland was on Sunday 31st October 1976 and the song was called He'll Have To Go - How eerie!

Way Down, Elvis's final single, was released just weeks before his death and remained at No.1 for 5 weeks in the UK.

After Elvis's death, an RCA pressing plant in England that had been scheduled to close was reactivated for sevearal months to cope with the demand for Elvis records.

In 2001 Elvis was inducted into the Gospel Hall of Fame, thus becoming the first person to enter the Gospel, Country and Rock halls of fame.

The fiftieth anniversary of the recording of That's All Right was on July 5 2004. As part of its yearlong celebrations, Memphis was the focal point for the Global Moment In Time - The simultaneous playing of the song by the world's radio stations.

On January 8 2004, at a ceremony in Washington, RCA (now part of BMG) and the Recording Industry Association of America announced the results of a full audit of Elvis's record sales. In all, Elvis had accumulated 97 gold records, of which 55 have gone platinum, and 25 multi-platinum and 51 gold singles, 27 of which are platinum and 7 multi platinum.

On January 8th 2005 it would have been Elvis's 70th birthday. To mark this momentous occasion RCA/SONG BMG launched the 18 UK No1's collectors series. Here is the full list of singles and dates of original releses/re-relese singles.

All Shook Up
Originally relesed 28/06/1957 - No1 for 7 weeks
Re-relesed 3/01/2005 - No2 for 1 week

Jailhouse Rock
Originally relesed 24/01/1958 - No1 for 3 weeks
Re-relesed 3/01/2005 - No1 for one week

One Night
Originally relesed 23/01/1959 - No1 for 3 weeks
Re-relesed 10/01/2005 - No1 for 1 week and it was also was the UK's 1000th number one!!!!!!!!!!!!!!!!!!!!

A Fool Such As I
Originally relesed 24/04/1959 - No1 for 9 weeks
Re-relesed 17/01/2005 - No2 for 1 week

It's Now Or Never
Originally relesed 3/11/1960 - No1 for8 weeks
Re-relesed 24/01/2005 - No1 for 1 week

Are You Lonesome Tonight
Originally relesed 19/1/1961 - No1 for 4 weeks
Re-relesed 31/01/2005 - No2 for 1 week

Wooden Heart
Originally relesed 9/3/1961 - No1 for 6 weeks
Re-relesed 7/2/2005 - No2 for 1 week

Surrender
Originally relesed 25/5/1961 - No1 for 4 weeks
Re-relesed 14/2/2005 - No2 for 1 week

(Maries Her Name) His Latest Flame -
Originally relesed 2/11/1961 - No1 for 4 weeks
Re-relesed 21/2/2005 - No3 for 1 week

Rock-A-Hul-Baby/Cant Help Falling In Love
Originally relesed 1/1/1962 - No1 for 4 weeks
Re-relesed 28/2/2005 - No3 for 1 week

Good Luck Charm
Originally relesed 10/5/1962 - No1 for 5 weeks
Re-relesed 7/3/2005 - No2 for 1 week

She's Not You
Originally relesed 30/8/1962 - No1 for 3 weeks
Re-relesed 14/3/2005 - No3 for 1 week

Return To Sender
Originally relesed 29/11/1962 - No1 for 3 weeks
Re-relesed 2/3/2005 - No5 for 1 week

(You're The) Devil In Disguise
Originally relesed 4/7/1963 - No1 for 1 week
Re-relesed 28/03/2005 - No2 for 1 week

Crying In The Chapel
Originally relesed 27/5/1965 - No1 for 2 weeks
Re-relesed 4/4/2005 - No2 for 1 week

The Wonder Of You
Originally relesed 11/7/1970 - No1 for 6 weeks
Re-relesed 11/4/2005 - No4 for 1 week

Way Down
Originally relesed 13/8/1977 - No1 for 5 weeks
Re-relesed 18/4/2005 - No2 for 1 week

A Little Less Conversation
Originally relesed 22/06/2002 - No1 for 4 weeks
Re-relesed 25/4/2005 - No3 for 1 week

After this was all over, Elvis now topped the UK charts 21 times! Also One Night was Elvis's 20th UK No.1 and also the UK's 1000th number one!!!!!! How amazing!!!!!!!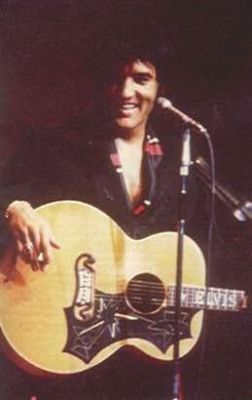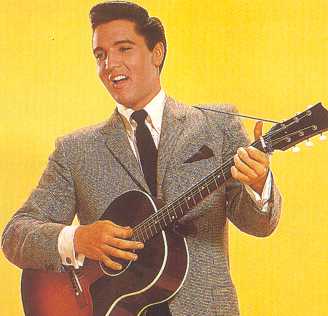 Elvis was a great guitar man!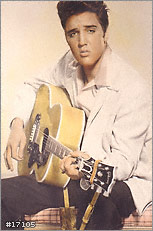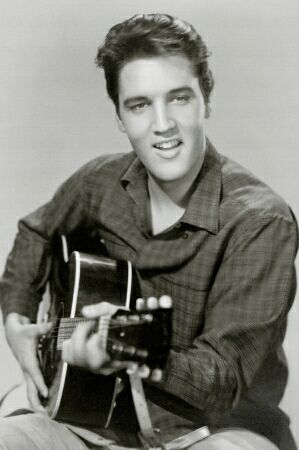 Elvis rocking!